As the University continues to formulate plans for the phased reopening of campus, the Office of Facilities has prepared a Reopening Plan for University Buildings to provide details on the necessary measures to reactivate University facilities for safe occupancy. This plan provides information about Facilities efforts to ensure clean and safely operated buildings and space, protocol for outside vendors and contractors while working on campus, and responsibilities of building occupants to maintain clean and safe workspaces.
Reopening Plan Summary
Customer/Occupant Responsibilities
Designate a COVID Lead Administrator and/or COVID Safety Officer as primary representative for your department.
ALL faculty and staff must complete the COVID-19 Return to Yale Campus Training.
Plan and coordinate with Facilities Superintendent (Find your building's Facilities Superintendent), but no later than two weeks prior to anticipated date of return.
Submit occupancy schedules and locations; Receive approval from the Office of the Provost: EH&S Integrator (requires VPN).
Maintain occupancy levels per state requirements and University requirements.
Disinfect desks, workspaces, work benches, equipment, computers, phones, copy machines, etc. before reopening and as required.
Office occupants will have to take their trash to common area trash cans.
Manage access for department vendors and deliveries (Office of Procurement).
Plan and coordinate visitor access.
Maintain a supply of Personal Protective Equipment (PPE), wipes, sanitizers, etc. as required for departmental use. Please address any questions about sourcing these supplies with The Office of Procurement.
Facilities Responsibilities
Clean & Disinfect
Thorough cleaning prior to reopening.
Disinfection of public spaces and surfaces multiple times a day (via dedicated "Day Porters").
Maintain hand sanitizer stations in public areas.
Optimize Building Infrastructure
Review system design and identify changes.
Ready systems, perform inspections and start-up.
Optimize and make changes to existing system and HVAC equipment.
Provide Supplemental Support Regarding Space Use
Provide guidelines to departments for arranging their workplace.
Assist department Lead Administrators in placing building and department signage.
Reorganize common area set-ups to provide social distancing.
Manage Facilities Contrators and Vendors
Contractor work rules and training for stand-alone sites and work within Yale-occupied buildings
Site-specific plans
Compliance
Building Readiness Task List & Responsibility Matrix Prior to Reopening
Download the Full Task List & Responsibility Matrix (PDF)
Summary
The Building Readiness Task List and Responsibility Matrix provides a list of building-readiness tasks to be completed by the Occupying Department, the Office of Facilities, or jointly between the two prior to building opening. Designated department Lead Adminstrators will coordinate with the Facilities Superintendents to ensure that the list of tasks has been completed and checked off before their building can be occupied.
Associated Space Operating Status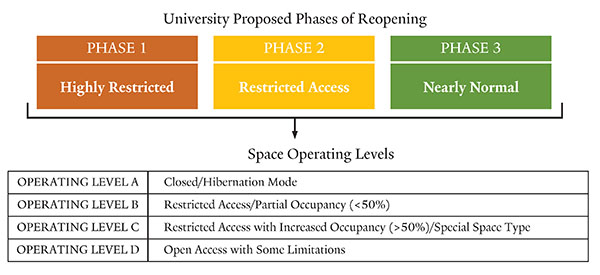 University Proposed Phases of Reopening
| Phase 1 | Phase 2 | Phase 3 |
| --- | --- | --- |
| Highly Restricted | Restricted Access | Nearly Normal |
Facilities Operating Level Assessment
Level A: Closed/Hibernation Mode
Level B: Restricted Access/Partial Occupancy (<50%)
Level C: Restricted Access with Increased Occupancy (>50%)/Special Space Type
Level D: Open Access with Some Restrictions
How will Facilities assess and assign operating levels?
Campus buildings and/or certain spaces within a building will be assigned an operating level.
Operating levels will correspond to specific cleaning/disinfecting protocols as well as operation and maintenance parameters/ recommendations.
Each University Phase will have campus buildings at different levels.
A specific campus building may also have multiple levels (i.e.,  YSB:  Most of the building is at Level B; Pavilion and Lecture Halls at Level A)
A level may change at any time based upon:

Occupancy levels
Types of space and use
State and local health guidance
Space Operating Level Assessment Definitions
Contact your building's Facilities Superintendent for more information on exceptions.
Level Status
Occupancy Status
Definition
Level A
Closed/Hibernation Mode
Few-to-no occupants.
Access only as needed for critical maintenance activities.
Level B
Restricted Access/Partial Occupancy (<50%)
Buildings and departments are open. Yale assigned occupants have access. Yale sponsored visitors only.  Assumed occupancy levels at any given time are below normal  (< 50% of peak). Social distancing rules in place.
Level C
Restricted Access with Increased Occupancy (>50%)/Special Space Type
A building or designated area within a building based upon the following conditions:

Increased building / area occupancy density (>50%)
Building or Space Type: healthcare, clinical, dining halls / cafe's, areas of assembly with occupancy levels greater than 25 people, COVID-19 infected area(s)
Social distancing not possible due to program requirements

Level D
Open Access with Some Limitations
Buildings and departments are open.  Larger gatherings and meetings are possible, but there may be limits on size.  Some PPE and social distancing guidance may remain, based upon health guidance from State and Local health agencies.
Facilities Plan for Reopening University Buildings